Lon Chaney in The Unknown
Bob Thomas's biography, Joan Crawford: A Biography (Simon and Schuster, New York, 1978, page 59 - 60) includes how she felt about Lon Chaney: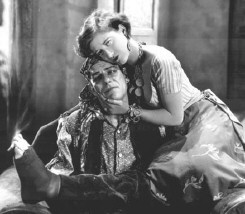 . . . She later declared that her best teacher was Lon Chaney [Sr.]. Offstage he was a mild, shy man but on the set his concentration on his menacing role was so all-absorbing that his fellow actors were terrified. As an armless circus performer in The Unknown (1927), he was required to light cigarettes and use knives and forks with his feet, even throw daggers at his beautiful assistant, played by Joan. She marveled at how Chaney spent hours alone in his dressing room perfecting the role, and how he never allowed his own persona to enter his screen character.
Maven marvels at La Belle Crawford . . . did she really learn how to act from Chaney?!
Maybe she should have learned how to throw knives and hide the bodies to make her point more effective about the better roles that had gone to Norma Shearer instead!
Mention this blog and get a discount!