The Devil Made Me Do It
"The Devil Made Me Do It!"
Flip Wilson had dressed up as "Geraldine" to make this a rallying cry for a generation when Helen Hayes and Mildred Natwick were doing their series, The Snoop Sisters.
It became the name of a delicious episode of their series that aired on March 5, 1974.
Helen Hayes was Ernesta Snoop and coming home from a vacation and being greeted by her sister, Mildred Natwick (Gwendolyn Snoop Nickolson) and they are immediately face with the dead body of Hayes' seat-mate on the plane.
Bert Convy (Lt. Steve Ostrowski) and Lou Antonio (Barney) were on hand, as usual to get if not keep the ladies out of trouble.
Dear nephew Convey was a policemen who frequently ended up deep into cases because of his aunties . . . but just as often they were the ones who helped solve his cases!
Barney was their chauffeur, handyman and chaperone when Convy tried to get the nosy ladies off his cases.
"The Devil Made Me Do It" is a perfect case.
The Snoop Sisters couldn't let well enough dead when the body showed up on the luggage carousel at the airport.
Maven wouldn't have had any problem.
So Ernesta and "G" start investigating and end up with a medallion that leads them to witches and warlocks like Cyril Ritchard and rock and roller Alice Cooper.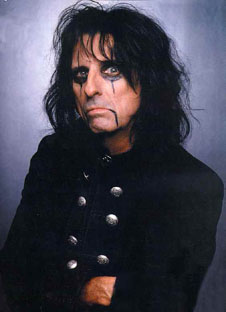 Where else are going to find those two together, with Greg Morris (of TV's "Mission Impossible" fame)?!
Miss Maven rates this a definite musthave.
(Mention Maven and her blog in your email and get a discount on your order!)