Holiday Inn
What's better than a Fred Astaire or Bing Crosby movie?
How about one with both of them?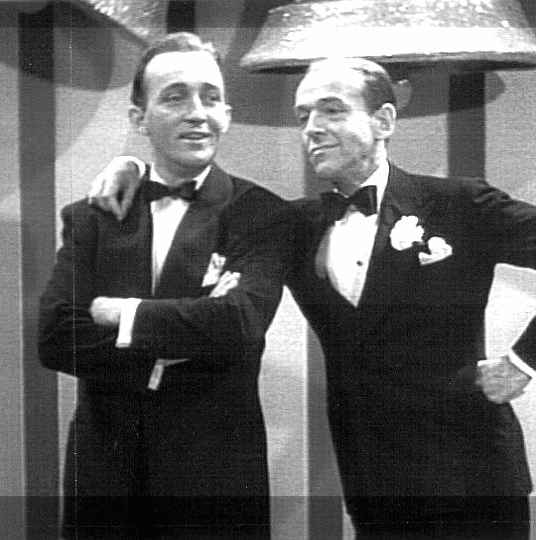 Sure, but if you throw Irving Berlin's holiday music . . . .
You can't because what you end up with is "Holiday Inn" (1942).
Yes, Miss Maven knows about "White Christmas" (1954), even to having Bing Crosby.
It's a movie worth watching in it's own right but it's completely separate from ". . . Inn" beyond the fact that they both deal with a dance team.
"Holiday Inn" has Fred Astaire and Bing Crosby in love with the girl they dance with, Virginia Dale.
[She's listed as Rene in "Docks of New Orleans" for you Chan Fans.
Miss Maven is still trying to verify it!]
Astaire ends up with Dale and Crosby ends up with . . . his Inn.
Marjorie Reynolds shows up and they team up to make the inn a going concern.
[Okay, equal time for James Lee Wong fans: Reynolds was Bobby Logan!]
There's great dancing and lots of music by Irving Berlin mixed in as Crosby tries to keep Reynolds under wraps when Astaire shows up after being dumped by Dale for a Texas millionaire.
Virginia Dale does a good job of what singing and dancing she's handed.
Marjorie Reynolds is a surprise, though, being a better singer than you might expect as well as holding her own with Fred Astaire.
She is as long as you don't know that Martha Mears dubbed her voice!
Walter Abel is the manager who has to deal with clients who keep swapping partners or loosing them or . . . .
You're going to start wondering why they don't fire him when he doesn't quite because of their antics!
Louise Beavers is excellent, as always, as Crosby's housekeeper/cook.
The musical numbers are great good fun to watch, celebrating all the holidays that America celebrated in 1942, including two Thanksgivings.
(There were two to make fun of Franklin Delano Roosevelt moving Thanksgiving from the third to fourth Thursday in November.)
There is a segment for Lincoln, complete with Bing Crosby putting "black face" on Marjorie Reynolds.
Miss Maven even remembers it.
Prints now have a blip in the film where they cut it out.
There is also a blip in Astaire's dance in the fourth of July segment, just don't ask Miss Maven why!
Irving Berlin wrote all the music and Crosby's brother, Bob, conducted his own band for the specialty numbers.
One final note: Fred Astaire tossed back two shots of bourbon before filming the "drunk dance" and another one before each take.
They used the seventh take in the movie!