Great Lines of Mae West, Part 2
Only Mae West could get away with a line from "I'm No Angel" (1933) like, "Beulah, peel me a grape"!
"It's not the men in your live that counts, it's the life in your men."
Miss Maven admits she's heard those but she didn't remember
"Were you at the haircutter or have your ears moved down?"
Maven marvels at any man who can move any of his parts down . . . !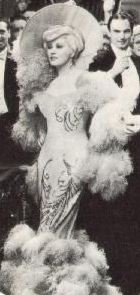 [The quintessential Mae West]
But back to La Belle West as Tira!
Jack Clayton (Cary Grant): You were wonderful tonight.
Tira: Yeah, I'm always wonderful at night.
Jack Clayton: Tonight, you were especially good.
Tira: When I'm good, I'm very good; but when I'm bad, I'm better.
Tira: What do you do for a living?
Rich Guy: I'm a politician.
Tira: I don't like to work either.
Miss Maven knows some politicians now that fit this bill!!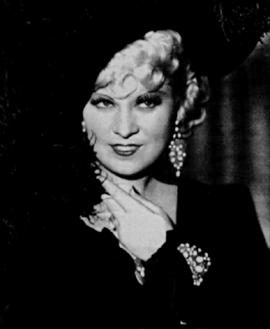 Jack Clayton: Oh, I'm crazy about you.
Tira: I did my best to make you that way.
Jack Clayton: Look, darling, you need a rest and so do I. Let me take you away somewhere, we'll--
Tira: Would you call that a rest?
Jack Clayton: What are you thinking about?
Tira: Same thing you are.
Miss Maven was beginning to wonder if he'd EVER get the idea!
You can reach Miss Maven at