Grand Hotel
Irving Thalberg began a whole genre of movie-making when he made Grand Hotel, according to Roland Flamini's "Thalberg: The Last Tycoon and the world M-G-M" (Crown Publishers, Inc.; New York; 1994; pages 137 - 138).
[Spoiler Alert: Details of the ending are contained in this post.]
In "Grand Hotel" Thalberg pioneered a formula that is now familiar (Stagecoach, Airport, California Suite) but was the innovative. the interaction of a number of characters hitherto unknown to each other, brought together in one setting, ran counter to the industry's conventional wisdom. If putting more than two stars in one picture was wasteful, using six stars was sheer folly, and Thalberg had a lot of explaining to do when he began to pile stars into his production.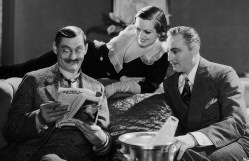 [Left: Lionel Barrymore; center: Joan Crawford; right: John Barrymore]
. . . The characters [they play] are all failures in one way or another, and in the bustling old central European hotel each confronts a personal crisis, which in the case of two results in death. [Greta] Garbo was the obvious choice for Grusinskaya, the prima ballerina who is past her prime; and Joan Crawford,was immediately announced in the role of Flaemmchen, the stenographer who uses sex to get ahead. . . .
For the Baron von Geigern, the hotel thief with whom Garbo falls in love and who is killed in the picture, Thalberg had initially wanted Clark Gable. John Barrymore got the part when Thalberg decided to cast both brothers in the picture: Lionel played Kringelein, the terminally ill clerk who checks into the "Grand Hotel: for one brief fling at the good life before dying. For a while plans went forward to pair Gable with Crawford. He was to Preysing, the self-made industrialist and in his way also a failure, with whom Crawford has an affair; but in the end Thalberg opted to cast the rough-hewn Wallace Beery.
[Greta Garbo and John Barrymore]
Miss Maven recommends "Grand Hotel" as a mustsee story that is beautifully put together all the way around. It's well-written, beautifully produced and acted as only M-G-M can do with their stable of stars.
Miss Maven hesitates to say it's a musthave for two reasons.
One is that it can be as depressing as all get out with Preysing killing the Baron and we know that Kringelein is dying when he leaves the hotel with Flaemmchen.
Miss Maven's other problem is Thalberg's choice in stars.
Greta Garbo was a great actress in Maven's opinion.
However, Miss Maven's late mother was a ballet dancer.
Miss Maven has pictures of her beloved mother in costume and "en pointe."
Greta Garbo was no ballerina.
However beautiful you may have thought Garbo, she clearly didn't carry herself like a dancer.
Miss Maven loves the use of the Barrymore brothers since they were great actors perfect in their parts and a joy to see working together in scenes in "Grand Hotel."
Brad Pitt and Matt Damon, eat your hearts out!
Clark Gable would have been wasted in this movie.
He's much more fun to watch in movies like "Red Dust" and "Saratoga" with Jean Harlow!
Besides, that poster of "Grand Hotel" makes Joan Crawford look like they forgot her eyeballs!
Miss Maven can be reached at her tv--er, email address at