Jean Harlow, Part 2
"Saratoga" was the movie Jean Harlow was making when she died at the age of 27.
Her death was attributed to uremic poison brought on by acute nephritis but "Mama Jean" Harlow contributed by reusing to get her daughter proper medical care, claiming that it went against her Christian Scientist beliefs.
What we are left with is a mixed bag of a film.
"Saratoga" manages to pretty much overcome the problem with a great cast, story, scenery and plenty of excitement of clips of horseracing!
Walter Pidgeon becomes more foil than actor in "Saratoga" with the likes of Jean Harlow, Clark Gable, Lionel Barrymore, Una Merkel and Hattie McDaniel!
[If Miss Maven knew how they do it, she'd have opened the newest--and hottest!--acting school in New York since Broadway became the Great White Way!!]
The basic premise of the story is that Grandpa Clayton (Barrymore) is trying to save his horse-breeding farm while his son (Jonathan Hale) and, later, his granddaughter (Harlow) try to sell their last stud [stallion].
This quickly goes by the wayside as Duke Bradley (Gable) tries to help Grandpa Clayton keep the horse AND the farm.
(Clark Gable, Cliff Edwards and Jean Harlow)
It's predictable what will happen as you watch the movie. . . . Gable and Harlow range from scrapping with each other to being just this side of affectionate and back again throughout the movie.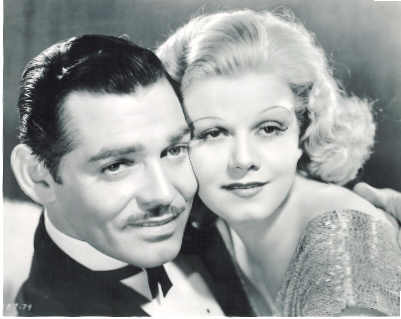 That they do it with such flair that you don't mind Harlow's irritating attempt to sound "upper class."
Miss Maven puts it in quotation marks because nobody sounds like that except when they are trying to sound that way in the movies! Miss Maven frequently wants to stuff marshmallows in their mouths just to shut them up until they get past the urge!
"Saratoga" only falters when Metro-Goldwyn-Mayer decided to follow Harlow's fans by finishing the movie.
They employed a body double and possibly two different voice doubles for the few scenes that Harlow hadn't done.
Miss Maven has heard that there were those people who watched it just to see if they could figure out which scenes had Jean Harlow in them and which ones didn't.
Trust Maven. . . . It's obvious since M-G-M wouldn't pay so much to such a high-profile actress and then NOT show her face.
Miss Maven recommends "Saratoga" because it still holds up today with such moments of Clark Gable hiding under Harlow's sofa while she's forced to smoke his cigar and Hattie McDaniel taking a turn at singing "The Horse with the Dreamy Eyes!"
Not to mention all the horses throughout the movie for equine fanciers!
You can contact Miss Maven at