The Best Years of Our Lives
The Best Years of Our Lives (1946) is a mustsee, if not musthave, movie in Miss Maven's video library.
Sam Goldwyn's epic to the returning veterans of World War II deals with the problems they faced back home.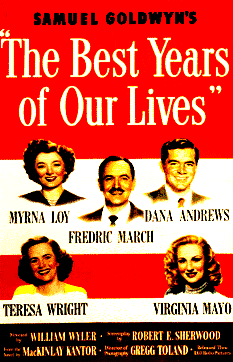 One of the actual vets was Harold Russell, who played the double amputee Homer Parrish and had to face the reality in Hollywood that many veterans did in the rest of the country.
According to A. Scott Berg in his biography, Goldwyn (Alfred A. Knopf, Inc.; New York, 1983; page 413) reports:
Harold Russell performed a number of tricky scenes, designed to show his compensating for his handicap in the most unassuming way, During one shot in which he was having a drink with Frederic March, the old pro warned him, "When I say my lines keep those g**damned hooks down! Don't lift that bottle of beer, because I want people listening to what I'm saying, not watching you drink beer."
<<>>
Hhhhmmmm.
Mr. Goldwyn apparently forgot to tell Mr. March that The Best Years of Our Lives was supposed to address this very problem of making all our former servicemen feel welcome and integrated back into society.
If March was trying to give him an acting lesson then MARCH was the one with the handicap in Miss Maven's book!
(Left to right at the piano: Harold Russell, Hoagy Carmichael, and Frederic March.
In the far background: Dana Andrews in the phone booth.)
"We got lucky with Harold Russell," said [William] Wyler [the director],"because he was an absolute natural." Goldwyn had enrolled him in acting classes, but the director insisted he ditch them. In the end, Russell compensated for lack of technique with integrity, which shone through his entire performance, even the love scenes.
Miss Maven is pleased to report that not only Frederic March get the best actor award of the 1947 Academy Awards for The Best Years of Our Lives, but Harold Russell got TWO!
One for best supporting actor and an honorary award "for bringing hope and courage to his fellow veterans through his appearance in The Best Years of Our Lives."
So much for Frederic March, says Miss Maven!
You can send your thoughts and comments to Miss Maven at