The Barrymore Family
Those young movie lovers who only know the Barrymore family through the acting talent of Drew Barrymore are in for a surprise.
Ms. Barrymore comes from an acting dynasty that began with her great-great-grandparents, John Drew and Louisa Lane.
Her great-grandparents were Maurice Barrymore and Georgie Drew.
All were royalty on the Great White Way of Broadway.
Thanks to motion pictures and Hollywood, the works of her grandfather, John Barrymore, have been preserved.
So have the movies of John, Sr.'s brother and sister, Lionel and Ethel Barrymore.
Drew seems to have gotten something of her grandfather's irreverence if we can believe what John Kobler wrote in his biography called Damned in Paradise: The Life of John Barrymore (Antheneum, New York, 1977, page 191):
[About Barrymore's coarse language] . . . John and Willard Louis, a fun-loving character actor who played the Prince of Wales, would occasionally spice the dialogue with obscenities, there existing as yet now sound camera. When Beau Brummel was released, the studio received a good many scandalized letters from deaf lip-readers.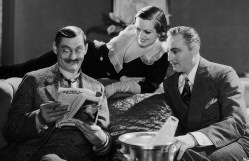 (Lionel Barrymore, left, Joan Crawford
and John Barrymore, right)
John's manner on the set, his gaiety and fellow feeling deeply impressed Mary [Astor]. She had never before met a star without affectation and condescension. John was on first-name terms with all the workmen and enjoyed long, technical talks with them. Yet he preserved an unassailable dignity, letting nobody forget that he was a Barrymore. Once, when a cameraman yelled: "Hey, Jack!" John spun around, eyed him coldly and said: "Why so formal? Call me kid."
(Lionel Barrymore, left on the couch, Ethel Barrymoresitting on his right, John Barrymore holding the baby)
Miss Maven laments that Barrymore eventually became a parody of his former self but in his prime in such movies as Counsellor-at-Law, Twentieth Century and Grand Hotel . . . . Hot Dog!
He could act rings around Ben Affleck, George Clooney and Brad Pitt.
He was one of those actors who could fascinate his audiences just reading the phone book!
You must excuse Miss Maven while she gets her smelling salts out at just the thought of John Barrymore!
You can reach Miss Maven (after she recovers her breath!)