Ghost Breakers
"Ghost Breakers" (1940) was made with Bob Hope and Paulette Goddard after the success of their "Cat and the Canary" the year before.
It starts off with a whiz-bang of a thunderstorm amidst the skyscrapers of New York City where Paulette Goddard is getting an inheritance from a late uncle. She's getting Castile Maldito, a castle with malevolent legends about it.
Bob Hope, on the other hand, is headed toward the possibility of having to leave HIS will and estate when he finds out that a mobster wants to see Hope and "set things straight."
Willie Best plays Bob Hope's valet in what Miss Maven thinks may be his best part in his career with lines like he is Mr. Hope's personal detainer. (Miss Maven hopes that carries more weight than be being his personal retainer!)
The first part of the movie revolves around Hope's radio show and getting into trouble with it before he can leave for vacation.
He has to go see a mobster at Goddard's hotel and thinks he's shot Anthony Quinn.
Hope hides in her hotel and, unbeknowst to her, hides in her trunk to get away.
Best informs Hope on the boat that news has come out that proves Hope innocent just as he discovers that Goddard is in trouble because of her recent inheritance.
Richard Carlson plays a new acquaintance of Paulette Goddards who explains the "death wanga" on her door.
Bob Hope and Willie Best beat Goddard to her island and haunted castle before she can reach it.
This is one of the best "haunted houses" segments that Miss Maven has ever seen.
It has everything one could wish for in an old-dark-house mystery plus Nobel Johnson as a zombie and Bob Hope's scared-silly hero with a just-as-scared Willie Best.
Miss Maven strongly recommends this as a gottahave, especially for Halloween!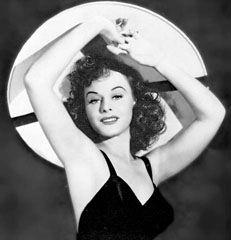 A note about this movie: Thirty-five years later, part of Paulette Goddard's appearence in Castile Maldito was recycled for her guest shot in the pilot episode for "The Snoop Sisters" with Helen Hayes and Natalie Natwick.
Another gottahave recommendation from Miss Maven.
Please contact Miss Maven at
He ended up being taken to the ship and then taken aboard the ship.