Dracula's Daughter/Son of Dracula
Dracula's Daughter (1936) is a bit uneven but holds up as the first sequel to Bela Lugosi's classic Dracula.
Countess Marya Zaleska (Gloria Holden) turns out to be even more bloodthirsty then Dear Old Dad, taking a bite out of crime (also known as Billy Bevan) to retrieve her father's body.
The next scene is effective as she burns it up in a belated funeral pyre. It's effective as long as you don't realize that Dracula's body is a stand-in for ole Drac.
Miss Maven begs the question: In this case . . . would it be a "lying-in"?! Or a "hunk-a-hunk of burning love"?!
Dracula's Daughter is a visually lighter film then its predecessor but also is occasionally lighter in content with Dr. Jeffrey Garth (Otto Kruger) and Janet Blake (Margarite Churchill) as hero and heroine.
Their banter may have been to counter the Countess' struggle with her "identity crisis." Makes you wonder what the Countess would do with a bad case of "angst."
The scene of the Countess in her studio with Lili (Nan Grey) is an effective counter with its underlying sexual tension that you don't get with Garth and Blake. Now THAT's angst!
Miss Maven rates this movie as at least a mustsee.
Then there is Son of Dracula (1943).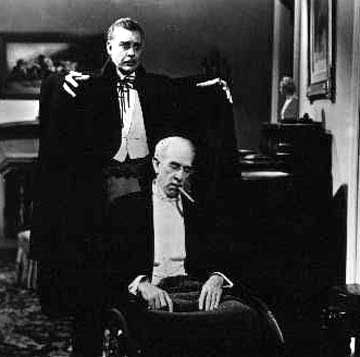 Lon Chaney's appearence in the hall just before the scene in this still sets the pace for his Dracula. He is seen reflected in the hall mirror which we all know is a vampire no-no.
Admittedly that blooper wasn't Chaney's fault but it does set the stage, as it were, for Chaney's performance.
Casting Lon Chaney, Jr., as the title role was a big mistake plus false advertisement.
Chaney's "Lennie" in Of Mice and Men was widely considered a high point of his career as well as his Larry Talbot in the classic The Wolf Man.
Compare Lon Chaney's vampire to Bela Lugosi's Dracula and Chaney comes off as Dracula Lite.
Not to mention the fact that the "Son" of Dracula isn't Sonny Boy but Daddy-O himself.
(Miss Maven is glad this wasn't released fifty years later or it would be greeted by choruses of "Who's your daddy?" by the audience.)
Son of Dracula is otherwise worth seeing, given Universal's excellent casting pool and production standards (including--or especially!--Dracula's coffin rising out of a swamp).
Miss Maven is tittering over this publicity still that she found.
What DOES he have on his mind and, no, it ain't her carotid artery!
You must excuse Miss Maven as she gets out her smelling salts!
Miss Maven can be reached at