Charlie Chan and More
So many movies and so little time during October!
Miss Maven would like to at least mention some films that she feels you might enjoy for Halloween--or any old time, for that matter.
She would also like to thank her Aunt Battie for helping in the research!
First is "Charlie Chan's Secret" with Warner Oland as the Oriental Detective in this 20th Century-Fox film.
One of Aunt Battie's favorites has our hero hired to find Allan Colby, who has been missing for years.
Because the family--and others--stand to lose the Colby millions if Allan is still alive.
You can guess what happens . . . but not when and how!
Chan has to solve the mystery amidst seances, spirit music and hidden passage ways!
Charlie Chan faces seances and murder again in "Black Magic" (also known as "Meeting at Midnight").
Chan doesn't have time to solve the murder amid the spirits in this movie until he's told that daughter Frances is a suspect.
This is a Mongram movie from Sidney Toler's later period as Chan but still worth a look at.
Another Toler entry from 20th Century-Fox Studios was "Charlie Chan at Treasure Island."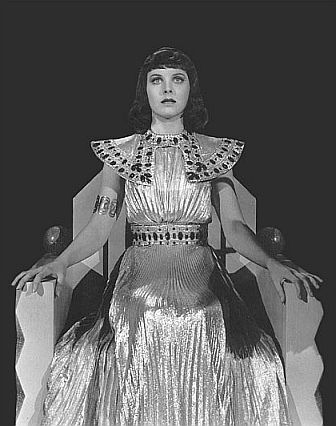 It's highly rated among Chan Fans for its overall quality but great for Halloween because of Eve Cairo, a psychic, who's been influenced by Dr. Zodiac and his seances.
It also has Cesar Romero as the magician, Rhadini, a definite plus in evening clothes for any woman!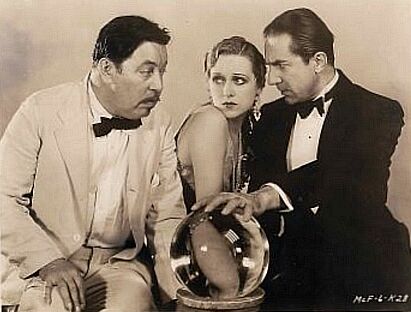 Miss Maven hopes you can get a copy of "The Black Camel," the earliest Charlie Chan movie known to exist where the detective has the role that Earl Derr Biggers gave him in his original novel by that name.
[Miss Maven has a copy of the Chan mystery basted on Derr Biggers' novel, Behind That Curtain, for various reasons.
None of them are because it was a Chan film since it was turned into a movie for Warner Baxter.]
"The Black Camel" is pretty much a straight mystery but it does have Bela Lugosi as a psychic and has one of the most effective seance scenes in the entire series. Plus it shows Warner Oland growing into his role as the best Charlie Chan, in Miss Maven's humble opinion!
"Dead Men Tell" is a great Chan entry with neat atmosphere where Charlie is on board a ship to find # 2 son, Jimmy, and they both end up with murder on their hands.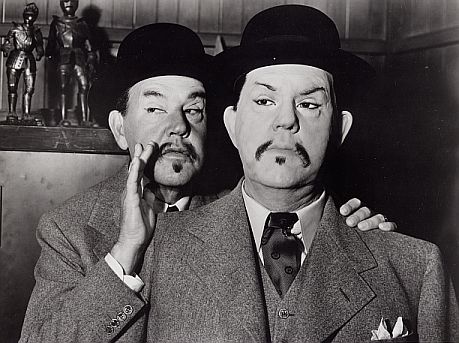 "Charlie Chan at the Wax Museum" is another straight Chan mystery, set in--gasp!--a wax museum but it has great atmosphere, complete with a thunderstorm.
"The Chinese Cat" and "The Jade Mask" are later Monogram entries with Toler as Chan but both have great atmosphere with fog all over the place!
Miss Maven would also like to mention entries in two other movie series.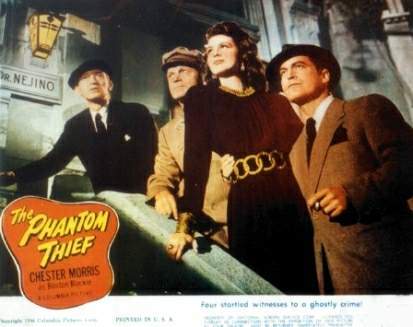 The first is "The Phantom Thief" with Chester Morris as "Boston Blackie."
This is a fairly good mystery with Marvin Miller (later on tv's "The Millionaire" show) as a supposed psychic.
It's great good fun until they start explaining how it was all done, which would be as believable as them saying they all love the Internal Revenue Service in Miss Maven's humble opinion!
We have more more "psychic stuff" in "Shadows in the Night," one of Warner Baxter's Crime Doctor films.
This is also has Nina Foch among a weird bunch of people she's asked to stay with her.
Like her brother-in-law who's an actor but refuses to go to New York to find a job and a cook who "just forgot" he had a knife in his hand when he got mad.
No wonder she's having weird dreams!
We finally come to "The Crime Doctor's Courage" with what Miss Maven has "lovingly" referred to as the "vampire dancers."
Trust Maven, your children could watch this one~~just not for very long!
Please write to Miss Maven at