Arsenic and Old Lace
Miss Maven has come full circle from "The Werewolf of London" (and "She-Wolf of London") at the beginning of October and now we're at "Arsenic and Old Lace!"
The "hero" of "Werewolf . . ." was Henry Hull whose sister, Josephine Hull, plays Aunt Abby Brewster in "Arsenic . . . !
Besides, "Arsenic and Old Lace" makes a great Halloween movie with lots of atmosphere, plenty of laughs and great good acting all around.
Cary Grant plays Mortimer Brewster, a novelist with novel ideas about matrimony should be a subject that sane people should avoid at all cost.
He "comes a croppper" in more ways than one in this 1944 film.
Priscilla Lane plays Elaine Harper, the girl next door to his aunts whom Mortimer Brewster falls in love with.
Unfortunately for Mortimer, things go from matrimony to worse when they DO marry, just not the way Mortimer thought! Especially when "Teddy" Brewster does his Teddy Roosevelt charging up San Juan Hill up the stairs, complete with bugle!
Jean Adair, who played Aunt Martha Brewster, helped an ill vaudevillian named Archie Leach (Cary Grant!) back to health in the mid-twenties so it was old-home week for them on this film.
Grant sits on a tombstone in the cemetery between the Harper and Brewster homes in one scene and you can see "Archie Leach" on a nearby stone!
Dr. Einstein is played by Peter Lorre who had a little help in one scene: He falls into an open window seat and tries to light a match. The wire that's used to power the light can be seen coming out of his sleeve.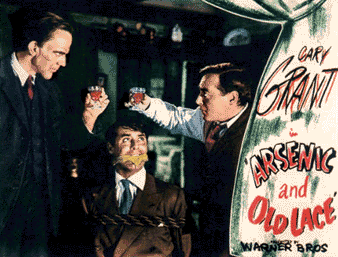 Release of this movie was delayed some three years because of the success of the stage play on which it was based.
Ironically, it was the play still being on Broadway that led to Raymond Massey in the role of Jonathan Brewster since his character goes homicidal every time someone says he looks like Boris Karloff. Karloff was playing the same role on stage as Massey was playing him in the movie!
(Raymond Massey, Cary Grant and Peter Lorre)
Miss Maven recommends that this movie might be okay for children to watch but their parents will get the most out of this gottahave picture!
After you've seen "Arsenic and Old Lace," try
Miss Maven, Aunt Battie and Slo, Mo and Larry and their Fraternity Ghosts want to wish you a Spooktacular Halloween!