Fashion in Film~~Furs, Part 1
I am very happy to have an article about fur fashion in films by another Charlie Chan Fan, Mary Ann. She has written about one of our favorite entries in the series, "Charlie Chan at the Olympics," (1937). All you have to do is mention "white fox fur" and Chanaholics everywhere know immediately which Chan movie you have in mind!
This still from ". . . Olympics" features Katherine De Mille as Yvonne Roland wearing the well-known fur, with George Chandler as the ship's radio operator.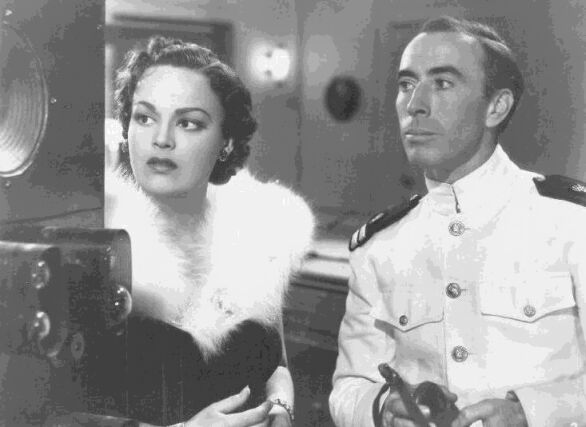 (Courtesy of Rush Glick's
Charlie Chan films, as well as a lot of other old films, were full of wonderful clothing, including one of our favorite items, the infamous "white fox fur!" Although all of the furs we see in the Chan films are not white fox, we have humorously begun to refer to them with that term.
The entertainment industry has always exerted a strong influence over fashion and this fact is obvious when watching old movies. Fur of all kinds was worn extensively during the era of the 1930's, both during the day and in the evening. In addition to fur coats, fur capes, fur stoles, wraps, accessories and trimmings adorned women's dresses and clothing and were a part of their wardrobe. Fashion changed however during the 1940's due to the tremendous impact of World War II. Furs were still worn during this period but not as much as they were during the previous decade.
Black and white films make it a little more difficult to recognize and place the type of fur that someone is wearing but it is interesting to note that fashion was a lot more different then than it is today. Much more emphasis was placed on "dressing," whether it was for traveling or just dinner. Furs during this period were worn for many different occasions and it was likely that a woman would have not only a coat but matching accessories and perhaps even have a store or small jacket.
Mostly worn as a symbol of luxury and status, furs and fur coats are prized for their warmth and durability. There are many types of fur including fox, mink, beaver, sable, marten, raccoon, muskrat, coyote, chinchilla, lynx, fisher and fitch fur.
FOX FUR, which comes in many natural colors, is found all over the world. Because of its long hair and distinctive coloring, its popularity depends on fashion. Fox, like mink, has been ranched and that has made it possible to develop variations of natural color such as silver and plantina. Fox fur wears well, although it needs regular cleaning and care to keep the fur fluffy and the skins soft and supple. The price depends on popularity, but red (the most common) fox is the least expensive with white and plantina being the most expensive. Different types of fox furs include:
. . . WHITE FOX: Our Favorite!! This fur may have a slight blue shade along the back of the pelt. It is less wearable than the more common kinds of foxes, althoughit is the ultimate in glamour.
. . . RED FOX: Red fox is native to every continent with the exception of South America. The best red fox comes from northern climates and is deeply furred with silky, strong texture.
. . . SILVER FOX: Silver fox is entirely ranched. The fur is blue black in color with a white tip on the tail. The best silver fox is a tru silver color with a black stripe.
. . . GRAY FOX: Most gray fox is American, with the best pelts coming from the Northern states. It is silver grey with a slight tinge of red.
. . . PLANTINA FOX: The plantina was originally bred in Norway. It is a much lighter platinum color than silver fox, and the whiteness may be enhanced by slight bleaching.
(Courtesy of Rush Glick at
I will continue Mary Ann's excellent article tomorrow about more types of fur.
This still is Drew Leyton as Pamela Grey in "Charlie Chan in London." I don't know what kind of fur is used in her coat but don't you just love it?!