Charlie Chan's Secret
One of my favorite movie series is Earl Derr Biggers' Charlie Chan. "Charlie Chan's Secret," a 1936 entry with Warner Oland as the Chinese Detective based in Honolulu, is the one that I enjoy watching the most!
All of the Fox Studio Chans that star Oland have a special quality to them. Part of it is Warner Oland, himself. He wasn't the first actor in Hollywood to play the part but he was the first one to connect with the audience in the role.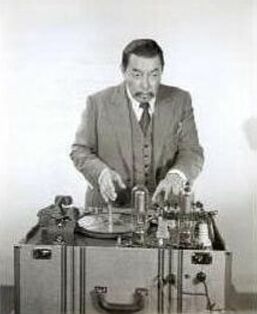 Warner Oland comes across much like Derr Biggers created Charlie Chan in 6 novels dating from "The House Without a Key" in 1925 on. Oland and Chan both spoke English as a second language since Oland was born in Sweden and Chan was born in China. Both were gentlemen in both senses of the word . . . someone who knew how to treat others right and would always do the right thing and someone who puts the "gentle man" back into "gentleman." Not to mention being better educated than many of the non-Asians around him!
In "Charlie Chan's Secret," our hero is hired to find a lost San Francisco heir, Allen Colby.
The family loses his father's inheritance if he's found alive. He's dead if somebody finds him first.
There are more than the relatives who stand to benefit from if he's dead: The medium who's been holding seance's in the old family home in return for being subsidized, the family attorney who handles their legal affairs, one daughter's newspaper boyfriend who could get a raise based on the story, the other daughter's husband who's the family financial planner, and a caretaker who's had a grudge against Colby.
The movie is packed with the actors, script and set to keep the action going. The Colby house alone is perfect since it looks like a place the medium's other-worldly friends would want to haunt and the Lowell home looks like a fitting background for a well-to-do family who is accustomed to living that way.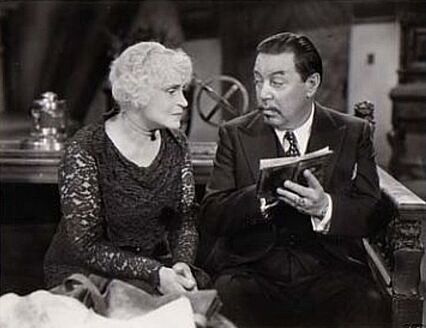 Henrietta Crossman is perfect as the matriarch, Henrietta Lowell. She's patrician enough plus what used to be called "spunky!" She was fully capable of showing up to help Charlie Chan and to heck with what her family thought!
Egon Brecher, the coroner in MGM's "Mark of the Vampire," was excellent as the really hacked off caretaker. He skulked beautifully throughout the whole movie. You kind of hoped he was the bad guy just on general principle!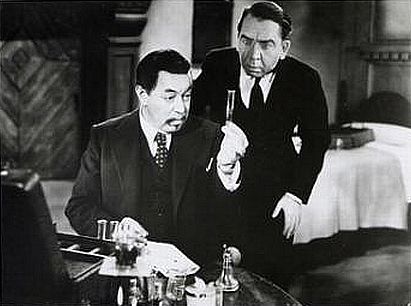 Herbert Mundin played the butler, Baxter, as comic-relief and had one of the best exchanges in the whole movie with his boss, Mrs. Lowell. Chan wanted her to go home when Baxter said, "I think--"
"No, you THINK you think. Now, I think!" she returned!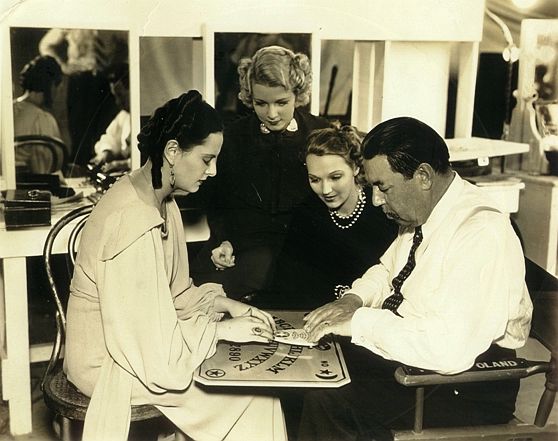 (This behind-the-scenes still has Gloria Roy as Carlotta [the medium], Rosina Lowell as Alice Lowell, Astrid Allwyn as Janice Lowell Gage, and Warner Oland as Chalrie Chan.
They look like they're ready for Halloween!)
If you would like to find out more about the movies of Charlie Chan, you can check out these links:
www.charliechan.info - Rush Glick's very informative site plus where we go on Monday nights for our chat room at 8:00 P.M. to 10:00 P.M. (EDT). We start running whatever Chan movie we are watching on tape or DVD at the same time at 8:30. Next Monday night will be "Charlie Chan at the Wax Museum," another goodie with spooky atmosphere!
www.charliechan.net - Kurt Schmidt's informative site with a message board you have to see to believe!
I should warn you that I'm planning a whole month of great Halloween movies throughout the month of October so plan on having a