Bette Davis in The Great Lie
Bette Davis and Mary Astor, spitting and clawing at each other for one whole movie . . . and all because of George Brent!
"The Great Lie" is on Turner Classic Movies tomorrow morning at 9:45 (EDT) and showcases what two great actresses can do with a real soap opera of a story!
Mary Astor has several great stories about working with Davis on this movie in her autobiography, A Life on Film.*
The plot revolves around classical pianist Mary Astor marrying George Brent on the spur of the moment and they decide to get it annulled. Astor discovers that she's pregnant after he disappears on a long-distance flight so Astor and Davis concoct a plot for Davis to take the baby and Astor can go back to her career.
It was such a sudser that the two actresses conspired to change the script on their own!
But the interesting part, the fun part, was in the relationship between the two women--the savage bargaining--their strange life together in a small town in Nevada while awaiting the child. These are the scenes that Bette and I rewrote, and they were real "female" scenes. A couple of cats who had to shield their claws for expediency, with the continual threat that one or the other would blow the whole setup.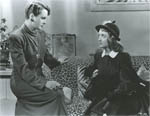 Bette's concern for this bored, restless, pregnant woman was the solicitude for a prize mare about to drop a foal. Keeping her comfortable and healthy. Bette awakes in the night and hears a noise in the kitchen. The house is remote, primitive, no help. She goes out and surprises me with a flashlight at the refrigerator: "Oh, Sandra, pickles!"
They take walks in the desert, they play double solitaire, and they hate each other--and Sandra doesn't take the trouble to conceal it. Finally the baby is born, and while Sandra is being attended in the bedroom of the house, Bette stalks outside in the chilly dawn, in riding boots. The riding boots were Bette's idea. There were some objections: "But they'll laugh--the audience will get the similarity of a husband patient the floor of a hospital." Bette said, "Let 'em. A laugh at this point is fine!" They laughed. . . .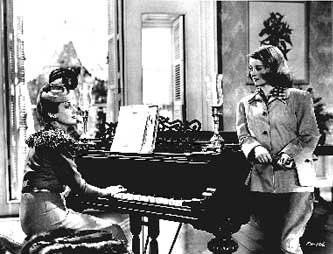 There was a scene where we were playing the everlasting double solitaire after dinner (a not too subtle bit of symbolism), and Sandra needs a drink, badly. Bette says, "O.K., the doctor said you could have some brandy--just an ounce." And I make a noise of disgust. Bette said, "It needs more protest than that. Sandra wouldn't be satisfied with less than a pint." I agreed, "She probably never heard of an ounce of anything in the liquor line." "That's it! Why don't you say, 'Whoever heard of an ounce of brandy!' and growl liked you do, Mary." Then we'd laugh at our own inventiveness--at least we were having a good time, even if the audience wouldn't!
*Delacorte Press; New York; 1967, 1969, 1971; pages 153 - 155.