The Bat Whispers
Today is
Aunt Battie's last day before turning the reins of this blog back to her niece, Miss Maven.
I've enjoyed our time together here but have one last movie to entertain you with . . . or one theme, four movies, a play and two books!!
The original story by Mary Roberts Rinehart was "The Circular Staircase," 1908. It was centered around a spinster who rented a beautiful old home out in the country for the summer and had anything BUT a beautiful time of it!!
My niece, Miss Maven, would rate this as not only a "mustread" but as a "gottahave!"
Miss Rinehart wrote a play with Avery Hopwood based on this book that hit Broadway in 1920. The story was changed, simply, to "The Bat."
[Aunt Battie has often suspected that they got the idea for the new villain and change of title from her beloved Uncle Batty, for whom she was named!! See the spoiler note below!!]
The first movie version was a bootleg copy called "One Exciting Night," by no less then D.W. Griffith.
[And if anyone knows where to find a copy, please contact Aunt Battie!]
Rinehart and Hopwood then did what what would become a trend decades later. Instead of turning a movie into a book, they turned the play into a new book, "The Bat."
Again, this book is as much a mustread and gottahave as the original "The Circular Staircase."
Now we come to the movies.
This blog may be dedicated to the movies of the 30s and 40s but sometimes earlier and later versions must be taken into account to fully appreciate our golden classics of that time.
[Excuse Aunt Battie for a moment!!
I'm not usually that wordy!!]
The first version of "The Bat" was directed by Roland West as a silent in 1926 and starred his wife, Jewel Carmen, and Mary Pickford's brother, Jack, as the young couple in desperate, young love.
We also see the talented Louise Fazenda as the maid, Lizzie Allen. Fazenda was married to Hal B. Wallis, one of Hollywood's top producers.
This version is, in my humble opinion, the most faithful to the book, "The Bat."
Kamiyama Sojin was the Japanese butler. That would be politically correct casting these days but they have made him up to look blatenly gaunt and give him scenes with Fazenda's Lizzie Allen for comic relief that aren't that funny.
One major departure is changing the detective Anderson into Detective Molettie, played by Tullio Carminatti. I could see this if Carminatti had an accent and this was a talkie but as a silent . . . ?
On the other hand, Roland West's talking remake, "The Bat Whispers," had Chester Morris as Anderson. This is also a mustsee and gottahave but I must warn you that Morris spends a great deal of the movie chewing on the scenery!!
(Chester Morris as Detective Anderson and Una Merkel as Dale Van Gorder)
This version also changes the butler, Sojin, into the caretaker, Spencer Charters and the earlier version's Dr. Wells into Gustave von Seyffertitz's Dr. Verner.
[Don't you love his name?!]
In the book, "The Bat," the detective that Cornelia van Gorder calls in on the case is Detective Anderson. The first two versions of the movie have her calling in a bumbling city detective who were written in for comic relief. I guess the butler and maid weren't enough!
The 1959 version of "The Bat" was written and directed by Crane Wilbur and is a simpler version, in my humble opinion. It certainly has fewer characters.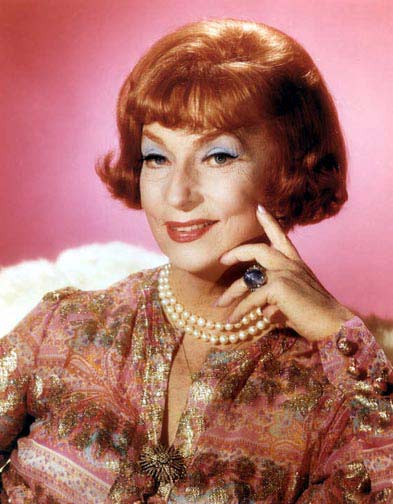 (Agnes Moorehead, in one of her best-known parts,
as Endora on television's "Bewitched.")
I do recommend it because Cornelia and Wells are played to perfection by Agnes Moorehead and Vincent Price. Anderson is played by Gavin Gordon, familiar to those who love early 30s movies like "Bride of Frankenstein" and "Mystery of the Wax Museum."
Surprisingly, this version doesn't have a butler. It has a chauffeur who has gone on a vacation in the book. He's played by John Sutton, who made such great 40s films as "The Invisible Man Returns," also with Vincent Price, and "Jane Eyre," with Orson Welles.
This version does have an extra detective, Davenport played by Robert Williams, but his is a "straight" role in the sense that he's not there to be comic relief. (Which is a relief to Aunt Battie!)
Now to the character of the Bat. . . .
Only the 1959 version with Moorehead and Price has the Bat in the same form as the play and book, with his face simply covered by a cloth to hide his identity.
The earlier versions make him out to be an outlandish-looking Bat with pointy ears that supposedly was part of the inspiration for the comic strip character, Batman.
The 1930 version even gave the Bat a limp, trying to throw people off the scent of who the Bat really is . . . .
And I'd better not tell or he'll come leave his
calling card pinned to my corpse!
You can contact Aunt Battie in care of her niece,