Acquanetta's Captive Wild Woman
Aunt Battie still here, holding down the fort for my niece, Miss Maven.
She's getting this blog ready for her Halloween Marathon next month so check back and often!
If you don't, I'll send my assistants after you--Slo, Mo, and Larry!!
I'd like to talk about Acquanetta and her 1943 "Captive Jungle Woman" role of Cheela/Paula Dupree. She was the only woman who can be associated with her own series monster, like Boris Karloff's Frankenstein Monster and Bela Lugosi's Dracula.
Acquanetta's real name was probably Burnu Davenport and was said to have been either an Arapaho Indian from near Cheyene, Wyoming and/or from a Pennsylvania mining town.
According to Robert Stewart's "Scream Queens: Heroines of the Horrors" (MacMillan Publishing Co., Inc.; New York; 1978; pages 176 - 183), Acquanetta may have been a highly-paid model back East.
She certainly had the looks to be a model but you have to wonder about what else she had to offer since she doesn't say a word in her first role as Cheela/Paula Dupree!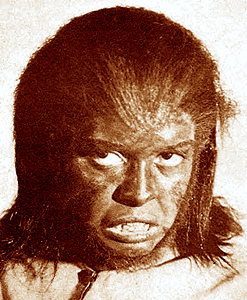 She has lines in the 1944 sequel of "Jungle Woman" but . . . she seems most animated in the scenes when she goes through the transformation of Paula Dupree back into Cheela, the ape.
This is still a great film to watch and I recommend at least "Captive Jungle Woman" in your collection.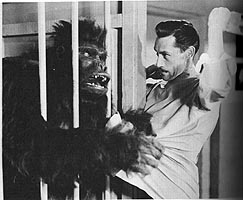 The supporting cast is top-grade with John Carradine as the Mad Doctor who knows how to REALLY operate on women, Fay Helm as his nurse, Evelyn Ankers and Milburn Stone as the heroine and hero.
You also have Clyde Beatty in the circus segments--part of the fun is seeing if you can tell which shots have him in the ring and which ones are of Miblurn Stone, who later went on to play Doc Adams on television's "Gunsmoke."
You might also want to check out Acquanetta's later role's in the sequel "Jungle Woman," "Dead Man's Eyes" (one of the Inner Sanctum movies) and in Johnny Weissmuller's "Tarzan and the Leopard Woman," arguably her best movie role.
Auntie Battie would like you to check out a new movie at