Sunset Boulevard
"Sunset Boulevard" is being aired tonight at
10:00 P.M. (EDT) on Turner Classic Movies
So I am excerpting part of Gloria Swanson's
autobiography, "Swanson on Swanson;
"
Random House; 1980; New York; page 481.
[Gloria Swanson in her bravura
performance as Norma Desmond,
". . . The tone of the piece was a mixture of gothic eeriness and nostalgia for the old Hollywood of the twenties. For Norma Desmond's butler and ex-husband, they had signed Erich von Stroheim. For a group of old friends--referred to as 'the waxworks' by Joe Gillis [played by William Holden]--who arrive to play bridge with Norma, they had signed Anna Q. Nilsson, H.B. Warner, and Buster Keaton. . . .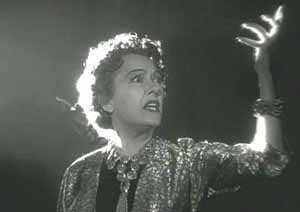 [Norma Desmond up in arms,
"For Norma's house they had rented a marvelous twenties palace in the Renaissance style from Jean Paul Getty; and they were going to shoot the scenes of Mr. De Mille right on the set of the picture he was currently making, 'Samson and Delilah.' Mr. De Mille's secretary told me he was having her cue him daily on his lines and that he was very nervous about appearing in front of a camera. . . .
[Billy Wilder directing Swanson
and Cecil B. De Mille;
courtesy
"Edith Head and I together created perfect clothes for my character--a trifle exotic, a trifle exaggerated, a trifle out of date. For my scene with Mr. De Mille, I designed a hat with a single white peacock feather, remembering the peacock feather headdress everyone was so superstitious about when Mr. De Mille and I made the scenes with the lions in 'Male and Female.' When Billy Wilder and the set designer asked me for personal props from my own life, I thought twice but I supplied them: scores of stills in old frames; the Geza Kende portrait; an idea for a large plaid bow on my head in one scene, a bit like those Mother had me wear as a child, a bit like the ones Sennett bathing beauties wore; the fact that Mr. De Mille had usually referred to me as 'young fellow.' "
Cecil B. De Mille would be hauled up
on charges of "sexism" today if he tried
to do that with any of our young stars
of today--presuming they wouldn't
giggle themselves to death at some
one
calling them "young fellow!"
[Norma Desmond ready for her close-up,
courtesy of www.leffa-arviot.com.]