The Maltese Falcon, Part 2
Continuing with behind-the-scenes of making the classic "The Maltese Falcon" . . . .
"There were other elaborate practical jokes, one of which was 'Shock the Tourists.' We didn't want people around watching us. We had an odd childlike territorial imperative about our set. It was hard work, and we didn't want anyone looking over our shoulder, so to speak. Also, we had a sneaky feeling that we were doing something different and exciting, and we didn't want to show it to anyone until it was finished. Hard to explain.
"It all started one afternoon when we were lined up on a shot where I sit down ad cross my knees elaborately--I think it was in Spade's office. I looked down and said, 'Hold it a minute, I've got a [expletive] run in my stocking.' I looked up and a little to the side of the camera was the publicity man with a half-dozen gentlemen of the cloth. They were ushered out politely by the publicity man who looked a little pale. When the big doors closed, everybody whooped and hollered and said, 'That's our girl! That's the way to get 'em off the set!' After that John dreamed up an act for each of us--designated by numbers. A stream of Helen Hokinson type club women would come in cooing like pigeons with the excitement of seeing Bogart, and John would sing out, 'Number Five, kiddies, Number Five!' At which Bogie would go into the prepared act with Greenstreet. He'd start yelling at him, calling him a fat old fool, 'Who the hell do you think you are? You upstaged me, and I'm telling you I'm not having any--' and John would be pleading with him to hold his temper. Very quickly, the uncomfortable and disillusioned ladies would exit and we could go back to work.
"'Number Ten' was a bit more involved. I had to get into my portable [trailer] with Peter Lorre before a group got over to where we were working. When they had been guided into position by the gracious John Huston, saying politely, 'I think you'll see just fine right over here,' in sight of the door of my dressing room, he would then call out, 'O.K., I think we're ready for Number Ten, now." Peter would open the door and come down the steps fastening his fly, and I would stick my head out the door waving my fingers as he said, 'See you later, Mary.'
"Our long-suffering publicity man was not stupid. He finally came to John saying, 'May I have your permission, sir, to bring over some rather important guests this afternoon? Without benefit of your [expletive] gags?' And John said, 'You can try, my friend, you can try.' Soon the Falcon company became a closed set and we could get our work done without people gaping at us."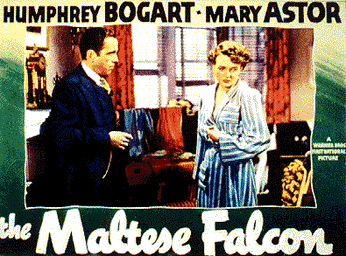 *From A Life on Film by Mary Astor; Delacorte Press; New York; 1967, 1969, 1971; pages 162 to 163.